Imam Izak-EL Mu'eed Pasha
Imam Pasha Biography
Since 1993, p
ioneer

and

community

development

visionary, Imam Izak-EL

Mueed

Pasha

has been the

Resident

Imam

of

Masjid

Malcolm

Shabazz,

in

Harlem,

New

York

.

Imam Pasha

oversees

and

directs

the

educational

mission,

community

development and

outreach

initiative

as well as

humanitarian

imperative

of a

Muslim

community

that

embraces

its

mandate

for

spreading

human

excellence,

in

an

excellent

environment

, in a

magnificent

way.
Imam Pasha has been a builder of bridges between the Muslim community and critical socio-economic and political institutions on the international, national and local levels. Imam Pasha has done an outstanding job involving Masjid Malcolm Shabazz and the Muslim Community into mainstream economic development. His involvement and concern for the total development of the human community is reflected, first and foremost, in his respect for G-d, his high moral values and strong commitment to preserving the institution of the family.
Imam Pashas believes and always states that, All that he has accomplished is made possible by following the leadership of Imam W. D. Mohammed.
Foremost among Imam Pasha's duties as Masjid Malcolm Shabazz' Resident Imam is his role as Director of Education for the Clara Mohammed School, named in honor of the late Sister Clara Mohammed, wife of the late Honorable Elijah Mohammed and mother to the late Imam W. D. Mohammed. The Clara Mohammed School provides a nurturing, educational environment that encourages the growth of the excellent nature, which G-d has created in every human being. The results are widely acclaimed.
Imam Pasha leads the community in many firsts. He was the First Muslim Chaplain of the New York City Taxi Limousine Commission (2002); First Muslim Chaplain in the history of the New York City Police Department (1999); First Muslim to be a member of the NYC Human Rights Commission (1997); First Muslim named to the NYC Health Care Chaplaincy Board of Trustees (1997); First Muslim appointed to serve on the Mayoral Police/Community Relations Task Force (1997); and First Muslim to deliver a Commencement Address at Columbia University (1996).
Under the leadership of Imam Pasha, Malcolm Shabazz Development Corporation established the Harlem Opportunity Business Center (HOBC), a business network linking African American, African-Caribbean, Asian, Eastern European, Hasidic and Hispanic entrepreneurs starting and expanding business enterprises.
Malcolm Shabazz Development Corporation has sponsored, rehabbed or developed numerous affordable housing units in the Harlem corridor including:
Malcolm Shabazz Gardens – 41 three family homes located on 117th Street between Malcolm X Blvd. and 7th Ave., and also on 118th Street between Malcolm X Blvd. and 5th Ave.
Renaissance Plaza - a full service $60 million dollar development that includes: 241 Apartment; 120,000 square feet of retail space; and underground parking.
Malcolm Shabazz Apartments - 42 Units of rehabilitated apartments in four buildings;
Malcolm Shabazz Court - 38 new construction rental units.
Graceline Court – A 16 story, 32 unit luxury condominium development
2512 Adam Clayton Powell Blvd - a 20 unit moderate rehabilitation project.
Another great accomplishment during Imam Pasha's leadership is the creation of the Malcolm Shabazz Harlem Market located on 116th Street between Malcolm X Blvd. and 5th Ave. The Market is an open-air mall on 22,000 square feet, housing 112 stores run by independent merchants and entrepreneurs. The Harlem Market has become a world famous Harlem tourist attraction. The Market was made possible when Imam Pasha intervened on behalf of street vendors on 125th Street who were being forcibly removed. Imam Pasha worked with the Federal, State and City Officials, as well as the Community Board #10 to negotiate the use of the current space on 116th Street for the vendors use. These businesses continue to flourish as new employers of the future. Masjid Malcolm Shabazz hopes to repeat the success of the Harlem Market with a similar market opening up in the historical African- American town, Inkster. The Inkster Harlem Market will be similar to the Harlem Market, offering entrepreneurs the opportunity to start and grow their businesses.
In April 2012, The New York Times featured Imam Pasha in their Lens Blog for Portraits of Harlem Clergy. The New York Times has featured Imam Pasha numerous times, highlighting his achievements. In one quote from a Times interview he states:
"War is not something that any human being wants, but in defense of ourselves we must fight. But G-d, let us fight for peace, let us not deviate from establishing peace." New York Times (October 29, 2001)
As part of his community service contributions Imam Pasha serves on several Boards of Directors. He holds many Notable Public Service affiliations: Executive Council Member, for the US Chapter, World Conference on Religion and Peace; a Board Member for the U.S. Inter-Religious Committee for Peace in the Middle East; a member of the Honorary Board of Governors of the World Congress of Christians, Jews and Muslims; Secretary of the Harlem Congregations for Community Improvement (HCCI); New York City Millennium Committee, New York City Police Academy Board of Visitors; Vice President of the NYC Cultural Affairs Advisory Commission, Executive Member of the Religious Alliance Against Pornography and Honorary Co-Chair for Appeal of Conscience, Community Leader for CURE (Community Understanding for Racial and Ethnic Equality).
Historical Achievements
Imam Pasha was Chairman of the 1996 Muslim Convention, which was held in White Plains, New York. At the 1996 Convention, the Muslim American community recognized Imam Pasha as the Man of the Year.
Also, in 1996, the local Boy Scouts honored Imam Pasha with an award representing 4000 Boy Scouts. Imam Pasha is the National Chaplain for the Islamic Council of Scouting, BSA.
His involvement in interfaith dialogue includes conferences with many religious groups. In October 1999, Imam Pasha traveled with a delegation of Muslims from North America under the Leadership of Imam W. D. Mohammed to a World Religious Conference with Pope John Paul II at St. Peter's Basilica in Rome Italy. Since the passing of Imam W. D. Mohammed, Imam Pasha has traveled to Rome twice as the Muslim representative. Most notable was when he traveled there in March 2010 for a memorial in honor of the late leader of the Focolare Movement, the Blessed Lady Chiara Lubich. The event was held at the Rome's Campidoglio. Imam Pasha has continued the interfaith dialogue with the Focolare Movement for over 17 years.
In the aftermath of 9/11, on September 23, 2001 at the Interfaith Memorial Service held at Yankee Stadium, Imam Pasha was one of many influential speakers that participated in the historical event. Some notable speakers included Former President Bill Clinton, Cardinal Edward Egan, Senators Charles Schumer and Hillary Rodman Clinton, Oprah Winfrey and many others. Imam Pasha's entire speech on September 23, 2001 can be read in the book titled From The Ashes: A Spiritual Response To The Attack On America, a Beliefnet/Rodale Book.
On January 26, 2002, Imam Pasha and other Muslims of the NYC Police Department and the NYC Fire Department were honored in Washington, D.C. at a program sponsored by the U.S Department of State. President George Bush and Former Secretary of State Colin Powell praised them by saying they were among our country's greatest heroes.
In January 2002, Imam Pasha gave the invocation at New York City Mayor Michael Bloomberg's Inaugural Ceremony.
On July 4, 2004, Imam Pasha was invited by New York Governor George Pataki to deliver the invocation at the Freedom Tower Ceremony, marking the rebuilding on the site of the World Trade Center. New York Mayor Michael Bloomberg, Former New Jersey Governor James McGreevy, several dignitaries and thousands of the victim family members witnessed the historic ceremony.
In August 2004 Imam Pasha delivered the invocation for the National Republican Convention at Madison Square Garden in New York City.
In June 2007, The New York City Young Professionals Leadership Program and its affiliates (Cornell University Cooperative Extension-New York City and the America-Israel Friendship League) asked Imam Pasha to be a member of their Advisory Board.
In February 2010, Imam Pasha was appointed Chaplain of the State of New York Metropolitan Transportation Authority (MTA) Police Department.
October 17, 2013, the All Stars Project Inc. honored Imam Pasha as one of New York City's Unsung Heroes.
In December 2013, Imam Pasha rendered a key assist to the implementation of The Affordable Care Act in Harlem by hosting a historic Informational Workshop and Enrollment Opportunity. Technical assistance and resources helped community residents sign up for health insurances under the President Obama's Affordable Health Care Act. Many Harlem residents eagerly participated, many enrolling to receive health insurance for the first time.
The beginning of 2014 marked a banner year in the achievement of Imam Pasha and the Malcolm Shabazz Community when a 25 acre Educational Complex was acquired in Inkster, Michigan. The Complex contains over fifty classrooms, science and computer labs, a library, a cafeteria, 4 outdoor courtyards, an Olympic size swimming pool, a State of the Art Broadway Performing Arts Theatre with 1000 seats, a gymnasium, a football field, a baseball field, a track, and over one hundred parking spaces. The facility, called Inkster Educational Center for Human Excellence, will serve as an educational, cultural and convention center in the historic African American township of Inkster, Michigan whose former residents include the world renowned Malcolm X (aka Malcolm Shabazz).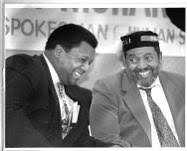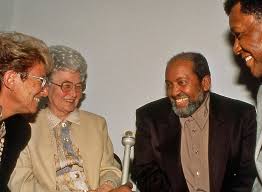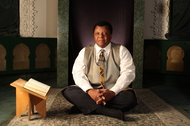 muslims mosque new york shabazz